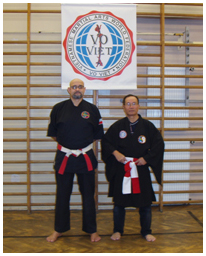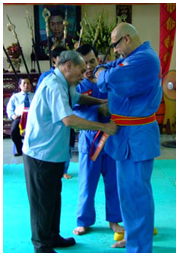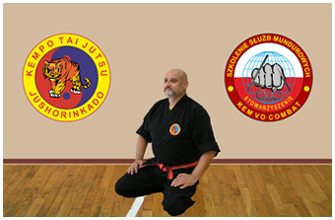 National Coach Ryszard(Vietnamese name- Dung Long) Joźwiak
6 Dang - VVD International ( Vietnamese Martial Arts World Federation Vo Viet )
4 Dang Vovinam VVD - WVVF
Vovinam Viet Vo Dao Poland
Trainer Ryszard Jóźwiak has been involved with Vovinam VVVD since 1980.
His first contact with Vietnamese martial arts started with Vovinam VVD learning.
In 1999 he made contact with Intercontinental VVN VVD Association seated in
Vietnam. He took part in the International VoVinam Championships in Vietnam in
2000 and many European seminaries and competitions .He created Viet Vo Dao
structures in Poland and in Belarus. The Viet Vo Dao Poland Sports Association
has been operating in Poland since 2006 and its aim is to develop VVN in Poland
as a sport. Ryszard Jóźwiak is the coach of national staff and the official
representative of WVVF. He elaborated the specialist training programs for VVD
teachers and published the Vovinam VVD book also in electronic form).
Full CV :
Ryszard Dung Long Jóźwiak - born on the 10th of July 1954 in Warsaw. Profession: geologist, second class Jiu Jitsu & Judo coach (Academy of Physical Education in Cracow).
Functions :
a. President of the Viet Vo Dao Sports Union Poland,
b. Technical Director of International Viet Vo Dao for Eastern Europe,
c. Representative of WVVF,
d. Chief of Kempo Tai Jutsu (JuShorinKaDao), representative of WJJKO,
e. Representative of Viet Tai Chi World Federation,
f. V-ce President of Military and Police Trainers Union for Mazowsze Region,
g. Licenced Military and Police Instructor of Trainers Military and Police Union.
Martial art path :
1970 - 1976 trained Judo In Warsaw (WKS Lotnik Club)
1972 - 1974 trained wrestling (free style) in KS Rzemieślnik Club in Warsaw
1974 - started Jukado training (modern Jiu Jitsu)
1980 - started Viet Vo Dao training in Austria
1999 - made contact with Intercontinental Vovinam VVD Association
Master grades :
8 Dan – International Kem Vo Combat
6 Dang – Vo Viet Vo Dao (Vo Su title), trained by his grand master (beginning from 1980) Ngo Thang Kiet (Kanada), Ngo Thiet Hung (France).
Now he is a student of Grand Master Phan Hoang - President of Vo Viet Quo Te ( International VVD - Vietnamese Martial Arts World
Federation Vo Viet)
6 Dan – Kempo Tai Jutru (WJJKO) - shihan title, Chieu of style, student of Master Tony Song (Great Britain) He has trained Jiu Jitsu since 1974
4 Dang – World Vovinam Viet Vo Dao Federation coach of Vovinam VVD Polska National Staff
Main achievements :
a. development of Viet Vo Dao In Poland (since 1980), forming the VVD structures in Belarus (since 1986) - the cooperation is still on,
b. opening VVD Club in London (1990-1991) with approval of IVVD Masters Council,
c. Making Vovinam structures in Poland,
d. Conducting many martial arts and combat courses in Poland, Belarus, Great Britain, Italy, France, Canada, Austria and Switzerland,
e. Setting up the specialist Kem Vo Combat System for Military and Police Services (In 1988-1989 he was a combat instructor, teaching personal
body guards of Polish President,
f. He educated, during his 25-years training work, over 100 black belts (mainly VVD and Jiu-jitsu instructors),
g. He published four books on martial arts. Another two will be publish this year. He issued many CD with martial arts articles,
h. He is an author of over 300 articles about martial arts and sports. He is also a co-worker of martial arts magazines such as "Wojownik",
"Samuraj" and "Kung-Fu" and "Komandos".